Lightnite.io Review + 20% Discount + 1 Free Skin + 500 Sats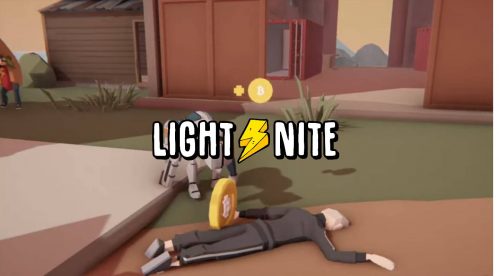 cartoonish low poly design
bitcoin micro-transactions
mobile friendly
Lightnite is a new battle-royale game for multiplayer. You can earn bitcoin playing the game, which makes it even more fun. When you shoot other player you will receive BTC immediately. The in-game store makes it possible to customize your character as much as you like.
Use this link for  a 20% discount + 1 skin + 500 sats
Lightnite.io – Battle Royale and earn Satoshis!
Battle Royale games have enjoyed great popularity in recent years. Now a new form of game type has been announced: Lightnite is supposed to play in a colorful and crazy comic world similar to Fortnite and thus entertain in a minimalistic way. The special thing about Lightnite: Bitcoin is implemented as game currency and is used for all possible interactions in the game. Could Lightnite make crypto currencies accessible and understandable to a whole new group in society?
Lightnite as a catalyst in the Bitcoin adoption
It's a very good idea: For every kill, drop or lootbox you get Bitcoin as a reward. These can either be transferred to your own wallet or spent in the in-game shop for items or skins. The game's entire ecosystem is built on the fast Lightning network, a free and super-fast transaction system for Bitcoin. It is ideally suited for in-game microtransactions, providing a real usecase and a solution for boring play money.
Choose the best and safest exchange for you
Choosing the right provider is not always easy. Therefore we recommend you take a look at our Bitcoin Broker & Exchange Comparison. Trade on the safest and best exchanges worldwide! For comparison
Lightnite as pay-to-win or pay-to-play?
According to the developer studio "Satoshi's Games" the game will be neither a pay-to-win nor a pay-to-play game. Although the Battle Royal game itself will cost 20 USD, you can play without making any Bitcoin deposits. A special mode with a points system is being developed to replace the Bitcoin payments. If the player wants to play with Bitcoin, he/she must deposit a small amount of Satoshis on the game Internal Wallet. He can lose these on death, but he can also earn the others by killing them. Additionally, hidden loot boxes and rare items are rewarded with Bitcoin.
Use this link for  a 20% discount + 1 skin + 500 sats
Very Promising
The game is not out yet but it looks very promising. The only downside is that the official launch will be only in Janunary 2021. A beta version will be available at the end of 2020.
PROS
cartoonish low poly design
bitcoin micro-transactions
mobile friendly